"Artsy-Fartsy Friday" is an idea taken from Mr. Madden, my former almost-art teacher in high school. Every Friday, he'd show off something "artsy-fartsy" -- his words, not mine -- that he liked. Once, he played a clip from "Eternal Sunshine of the Spotless Mind" (the one where Joel's memory literally starts to crumble); another time, it was an indie musician that he'd found... Basically, the point was to expose us to different artists, styles, concepts, techniques -- you get the picture.
I want to do something similar here. So, for the first Artsy-Fartsy Friday of Father Piñata, I'd like to present to you...
Great Lake Swimmers!
Canada-based Great Lake Swimmers is the brainchild of singer-songwriter Tony Dekker, and could be genre-ly (ha) described as indie/folk rock. To date, the band has released four full-length albums:
Great Lake Swimmers
(which was recorded in an abandoned grain silo in southern Ontario),
Bodies and Minds
(recorded in St. Theresa's Church in Ontario),
Ongiara
(recorded in the Aeolian Hall in Toronto) and
Lost Channels
(recorded all around the Thousand Islands region in New York, including Singer Castle). All of these albums -- with the exception of
Lost Channels
, which I have not yet had the pleasure of hearing in its entirety -- are wonderful and very easy to listen to.
Now, reviewing music is not exactly my forte, but I absolutely adore this band, and cannot bear to leave you with simply "indie/folk rock," or "easy to listen to," so I will do my best to elaborate:
Listening to Great Lake Swimmers is like filling your soul with soft, folksy lullabies and simple yet starkly intimate lyrics -- much like waking up to a cloudy day, a cup of coffee and an empty bed. It's the day after your best friend moves away, and you find yourself wandering the neighborhood, looking at things on your own, seeing things you never really saw before. Like drinking chocolate milk and eating a grilled cheese sandwich with Dijon mustard and apple slices. Walking barefoot on carpet and hearing your feet slide across the floor; or perhaps sitting cross-legged on your bed, cutting out construction-paper hearts while the heater is humming behind you...
I know this description does little in the realm of "evaluating" Great Lake Swimmers. It doesn't describe the music, or the style, or the words Tony sings... but I figure, hey, if you want straight reviews,
you can find them easily enough
. Finding visuals, memories, concepts of how things sound, on the other hand... not so easy to come across. And if we're being perfectly honest, sometimes a vision carries more weight than words do. In the words of a couple of Cornell professors, language is complex and constrained by an awful lot of things. And so I leave you with
some
words, but also with images, sounds and other media to append to
your
vision of Great Lake Swimmers.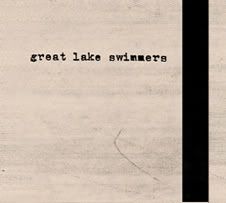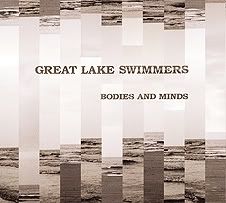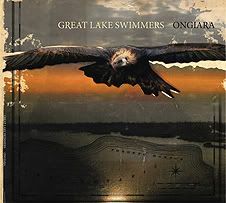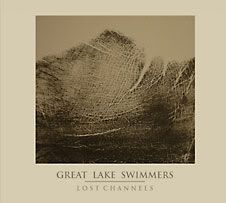 These are the covers of Great Lake Swimmers' four albums. To me, they are quite reminiscent of a high-school geography book. You know, kind of used, worn and torn, creased, crinkled, a little bit of heritage and history. I like how rustic and unassuming they are as a whole, also. Plainly stated, the album art does a great job of accurately representing the sound and feel of the music.
Make your own judgments:





(via NPR's Tiny Desk Concert)
"And the words tumble out of your mouth / like apples from a wild tree. / Mine, they spy out cautiously / like a creature from its cave... / My body aches for you, / and shakes for you, / sways for you, / and dances with your little woman body / long into the evening."